We invite you to watch the video and see the transformative power of the gift of a musical instrument. That is what we do -- ask people and organizations to donate musical instruments to our tax-exempt organization and then we match the donated instruments with the countless requests we receive. See the miracle of music in action, transforming young hungry souls into inspired musicians.
We support parents who cannot afford the cost of renting or purchasing an instrument.
We support music teachers and program directors who have students unable to participate because of the cost.
We support established, innovative community music programs that need support.
We have served more than 11,000 children in the past 23 years.
If you would like to get a more in depth insight into our outreach,
please check out our newsletter archive and see what we've been doing!
In 2017 our outreach continued to grow!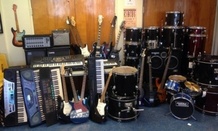 We hit a milestone of over 1,000 instruments donated in 2017 in over 40 states and five countries. We reached this milestone because of new partnerships, increase in service project instrument drives, and receiving unexpected foundation grants. Look forward to increasing our outreach again in 2018!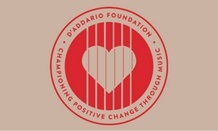 We received two unsolicited grants (Peachtree House Foundation & D'Addario Foundation) that supported the increase in our outreach. The D'Addario Foundation will also provide supplies such as strings, drum heads to our repair folks and luthiers. We are very grateful for this support.
Instrument drives organized by kids performing a bar/bat mitzvah, Eagle Scout, high school, consist of more than half of the instruments donated that we are able to distribute to after school programs and individual kids in school band programs who don't have the means to rent or purchase an instrument. Jackson Ledbetter from Northern Virginia shattered the instrument drive record with close to 300 instruments collected for his Eagle Scout project!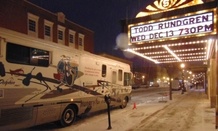 We continued our partnership with Todd Rundgren's Spirit of Harmony Foundation. His fans across the USA helped collect close to 350 instruments in numerous locations during the Magic Music Bus Tour. We teamed up with D'Addario Foundation for instrument drives in Long Island and Chicago that brought in almost 200 instruments, and had a successful drive at a Todd Rundgren concert in Sheboygan, WI.
Big Bertha's Back on the Road in 2017


—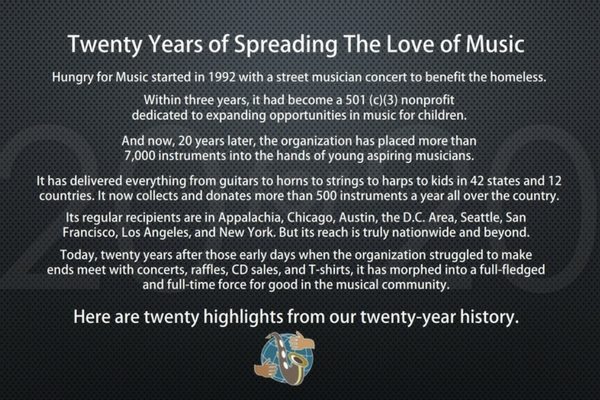 In 2019, we will be celebrating our 25th year providing
the gift of music to underserved children with a hunger to play.
We can't wait to share the 25-year retrospective with you!
Our Outreach is Growing & We Need Your Support.


How Can You Help?


—



A milestone 1,080 instruments delivered in 2017.
Event Information:
10th Aca-versary Concert

7:00 - 9:00

Church in Bethesda, 5033 Wilson Ln, Bethesda, Maryland