Big Bertha, the Magic Music Bus, is taking another road trip. This time, she'll be rolling through 100 cities and 48 states (see map below), stopping to hold instrument drives, visit schools, connect with our supporters, and generally spread the Hungry for Music love.
There are lots of miles to cover and Bertha gets mighty hungry. Can you help us keep her tank full? Please pitch in if you can!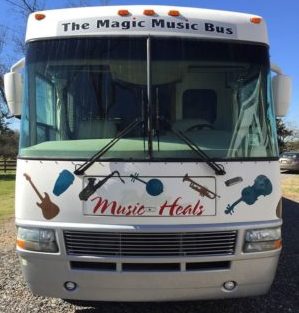 Feed Big Bertha
Support the Magic Music Bus Tour - 100 Cities in 48 States.
The trip begins in Shreveport, Louisiana on March 22, 2017 and ends in Nashville, Tennessee.  Check out the travel route below, read about our adventures, and find out when we'll be coming through your area.  
In addition to the cities listed, we'll be making other stops along the way to pick-up and drop-off  instrument donations.
We'll be posting photos and updates here and on the Hungry for Music Facebook page.