Hungry for Music is all about helping kids transform their lives through the gift of music. It gives us tremendous satisfaction when kids make the commitment to a Service Project -- using a special life event to collect musical instruments from other kids.
Are you ready to be a Hungry for Music hero and commit to a Service Project to collect instruments and/or donations? Below are some great examples of Kids Helping Kids.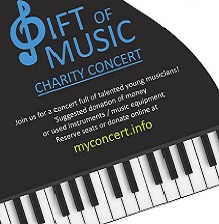 AARON
When Aaron Cohen, of Glastonbury, Connecticut was thinking about a service project for his Bar Mitzvah, he knew it would involve music. After doing some research, this ambitious and talented young pianist discovered Hungry for Music and decided to produce a benefit concert to support us.  The event, called "Gift of Music", featured performances by Aaron and other young musicians and was a solid success. Aaron collected almost a dozen instruments and raised a hefty $1,500 for Hungry for Music.
Thank you, Aaron!  You have given the gift of music to many kids and it is truly appreciated.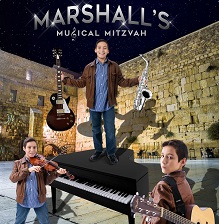 MARSHALL
Marshall Greenspan of Rockville, Maryland completed an incredibly successful Bar Mitzvah service project. He collected a whopping 53 instruments and cash donations surpassing $500. Marshall's impressive efforts will have a positive impact on the lives of so many children, and on behalf of each one of them, we say thank you!
Way to go, Marshall. We wish you much success in all of your future endeavors.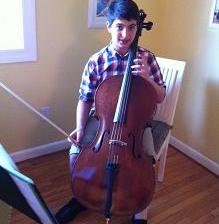 GABE
We are very grateful for the impressive efforts of young cellist Gabe Schaner. He performed a house concert fundraiser in Bethesda, Maryland, and raised $1,200 to support Hungry for Music.  A serious music student, Gabe chose to focus his Bar Mitzvah service project on "giving the gift of music to communities in need through Hungry for Music." He says, "I want to bring music to kids less fortunate than me."
A heartfelt thank you, Gabe, for your wonderful act of tzedakah!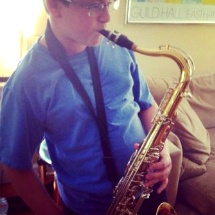 ANDRE
Congratulations to Andre Weinberger from Maplewood, New Jersey for completing his Bar Mitzvah service project! Andre collected a dozen instruments (including a drum kit) and raised almost $700 for Hungry for Music. He explained his reason for choosing Hungry for Music as his Mitzvah project, "As a musician, I know how much worse my life would be if I couldn't afford an instrument. I hope this project will make a difference to the lives of kids who want to play."
Thank you, Andre, we greatly appreciate your support and wish you the best in your own music endeavors!